PQ 2003 - HISTORICAL MATERIALS
International Exhibition of Stage Design and Theatre Architecture – Prague Quadrennial '03
Industrial Palace, Prague Exhibition Grounds, Prague. June 12-29, 2003.
Held under the auspices of the President of the Czech Republic, Václav Klaus.
The PQ is organized by the Ministry of Culture of the Czech Republic together with the Prague City Council, and with the support of UNESCO.
The Theatre Institute, Prague has been entrusted with the realization of PQ 03 by MCCR.
OFFICIAL MATERIALS
Statutes:
2003_statutes001.pdf
2003_statutes002.pdf
Organizatinal structure:
2003_organizational_structure001.pdf
Selecton committee:
2003_selection_committee.pdf

PARTICIPATING COUNTRIES
Argentina, Australia, Austria, Belgium, Brazil, Bulgaria, Czech Republic, Canada, Chile, China, Croatia, Cyprus, Denmark, Egypt, Estonia, Finland, France, Germany, Greece, Hong Kong-China, Hungary, Iceland, India, Israel, Italy, Japan, Korea, Lithuania, Latvia, Mexico, Netherlands, Norway, New Zealand, Oceania, Peru, Poland, Romania, Russia, Serbia and Montenegro, Spain, Slovakia, Slovenia, South Africa, Sweden, Switzerland, Taiwan, Turkey, Ukraine, United Kingdom, United States


PROGRAM
INTERNATIONAL JURY
Sharon Cort, scene and costume designer, director, writer (South Africa)

Dionisis Fotopoulos, scene and costume designer (Greece)

Kazue Hatano, scene and costume designer, pedagogue (Japan)

Ian Herbert, theater scientist, theater critic, publicist, editor (Great Britain)

Jiří T. Kotalík, art historian, architect, pedagogue (Czech Republic)

Valerij Levental, scene and costume designer (Russia)

Alejandro Luna, scene designer, architect (Mexico)

Leszek Madzik, scene and costume designer, director, pedagogue (Poland)

Hartmut Meyer, scene and costume designer, pedagogue (Germany)

André-Louis Perinetti, director, theater organizer (France) – juror delegated by UNESCO

Delbert Unruh, scene designer, theater scientist, pedagogue (USA)

Jury Foreman: André-Louis Perinetti
PRIZES AWARDED
National section
GOLDEN TRIGA – Great Britain

GOLD MEDAL – SCENOGRAPHY – Richard Hudson (Great Britain) – for the stage design to Handel's opera Tamerlano

SILVER MEDAL – SCENOGRAPHY – Georgios Patzas (Greece) – for his stage design for Aeschylus's "The Persians" for the festival in Epidaurus

HONORABLE MENTION – SCENOGRAPHY – Hartus Kafkarides (Cyprus) – for an inventive stage design for Euripides's play "The Trojan Women"

GOLD MEDAL – COSTUME – Nicky Gillibrand (Great Britain) – for costumes for Midsummer Night's Dream

SILVER MEDAL – COSTUME – Tanja Simonen (Finland) – for costumes for Matti Rossi's The Deer and the Rhinoceros

HONORABLE MENTION – COSTUME
Hye-Suk Chang (Korea) - for interesting costume designs for Mozart's The Magic Flute
Doina Levintsa (Romania) – for a clever and inventive costume collection

Complex realization of a single production

GOLD MEDAL – Lars-Ake Thessman – stage design, Karen Erskine – costumes (Sweden) – for the excellent production of Sophocles' Electra

SILVER MEDAL – Ilmars Blumbergs (Latvia) – for a presentation of Mozart's The Magic Flute

HONORABLE MENTION – not awarded

Theatre architecture

GOLD MEDAL – Renzo Piano (Italy) – for the cultural complex at the Parco della Musica in Rome

SILVER MEDAL
Francesca Guardia, Nuez Yanowsky (Spain-Catalonia) – for the Lliure Teatre in Barcelona Lauritz and Manfred Ortner (Switzerland) Schiffbau in Zurich

HONORABLE MENTION
A. Vassiljev, S. Gusarev, I. Popov, B. Thor (Russia) – for the renovation of the School of Dramatic Arts in Moscow
Sweden – for the entire architecture exposition

SPECIAL SILVER MEDAL
exposition from the Netherlands – for its modern approach in presenting vital contemporary theatre
exposition from Russia – for the variety of its retrospective display of Boris Messerer
exposition from Taiwan – for its sense of national identity
exposition from Slovakia – for its selflessness in choosing to present a memorial to Ales Votava
exposition from Canada – for its clarity and national spirit
exposition from Greece – for its presentation quality and for the work of its designers exposition from New Zealand – for bringing a sense of play to the Quadrennial
exposition from the United States of America – for its inclusiveness and internationalism
INFORMATIONAL MATERIALS
Previous juries, awards program... MORE...

ground-plans of exhibition spaces:
2003_plan001.pdf

2003_plan002.pdf
PROPAGATION
promotional and program materials...
2003_Exhibition V. Kronbauer.pdf MORE...


PHOTOS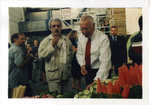 MORE...

STATISTICS
Number of participating countries: 50 (at the beginning there were registered 52 countries; due to SARS Singapore call off its attendance, Uzbekistan also did not take part)
Number of exhibiting artists and collectives: 600
Number of exhibiting architects and collectives: 71
Number of exhibiting Czech scenographers and architects: 14
Number of exhibiting schools of scenography and architecture:126

Both wings of the Industrial Palace used: 4,450 m2 of exhibition space.
The central hall (1,090 m2) was used by activities and performances of the Heart of PQ.
Installation materials: In addition to several minor requirements for classical panels, pedestals, and display cases, most countries brought their own equipment and installation elements. Only for the installation of costumes in the Pageant of Dramatic Characters did we use wire costume holders, stands, and mannequins.
Visitorship: 19,680 visitors, 3,400 accredited participants. In the two first days of the exhibition (during which admission was free of charge) there were 1,500 visitors.
There were a total of 24,580 visitors. Group and tourist visits are not included in that number.
Tentative budget: CZK 16,900,000
TEAM
Chairman of the PQ Council: Zdeněk Novák, 1st Deputy Minister of Culture of the Czech Republic

PQ Committee Members: Michal Beneš, Ondřej Černý, Silvie Georgieva, Václav Jehlička, Roman Kallup, Jiří T. Kotalík, Zdeněk Lyčka, Jaroslav Malina, Igor Němec, Pavla Petrová

General Commissioner: Jaroslav Malina

Designer: Petr Nikl
Architect: Martin Tröster
Exhibition realized by: LN design
General manager: Petr Oukropec